Facebook is no longer just for college kids.
It's an advertising behemoth that allows you to reach an extraordinary amount of people.
Facebook now has over 1.4 billion active monthly users.
There are now more than 2.5 million advertisers on Facebook and over 1 million small or medium sized businesses that advertise on Facebook.
The vast majority of businesses will benefit with advertising on Facebook.
Even if you've tried Facebook and it did not yield the results you expected it's most likely because you did not have the proper sequence in place.
The technology with Facebook advertising is always getting more advanced.
Facebook's platform is always evolving and it can be difficult to keep up with the changes. 
10 Reasons Why You Should Advertise Your Business on Facebook
1 – Custom Audiences and Lookalike Audiences
The #1 reason to advertise on Facebook is that Facebook allows you to create custom and lookalike audiences.
This is the most powerful strategy that Facebook has.
Many businesses make the mistake of trying to reach new customers/prospects when it's a lot cheaper to reach people that know you already.
Facebook allows you to create custom audiences by using a Facebook Pixel.
A Facebook pixel is a piece of code that Facebook provides that you install on all your web properties.
This piece of code allows Facebook to track every person who has visited your web properties.
This creates different custom audiences in which you can create Facebook Re-targeting Ads.
The benefits of Re-targeting Ads are enormous. 
They include:
Lower Cost Per Click.
Higher Conversion Rates.
Laser Targeting.
Expanded Reach.
Facebook allows you to create multiple custom audiences that allow for better targeting.
You can create the following custom audiences:
Anyone who visits your website.
People who visit specific web pages.
People who visit specific web pages but not others.
People who haven't visited in some time. 
You can also create a custom audience by uploading your email list onto Facebook.
This allows you to target your email audience with Facebook Re-targeting Ads. 
For more information on how to create custom audiences and Re-targeting Ads check out the following posts:
Once Facebook has enough data on your audience you can create Lookalike Audiences.
Lookalike audiences are audiences that share the same demographics as your custom audience.
They are created based on the following traits:
Custom Audiences
Website Visitors
Page Fans
2 – Lead Ads
In 2015, Facebook introduced Lead Ads. Lead Ads are going to be huge in 2016. They allow you to generate a huge amount of leads for your business.
Lead Ads provides some advantages over regular ads that include:
Users never leave Facebook.
Users don't have to fill out their info.
They are mobile friendly.
The load times are eliminated.
Right now you can't create custom audiences with lead ads but you can re-target your audience.
That includes your email list, custom audience, and website visitors.
Leads Ads are a game changer and will be a major weapon for advertisers in 2016.
Since the user never leaves Facebook, it dramatically improves the user experience and makes it easier and cheaper for businesses to generate leads.
3 – Brand Awareness
The major difference between Adwords and Facebook Ads is that Ads on Facebook also build your brand. Google Adwords are great for converting the low hanging fruit.
These people are already interested in your products so building an Ad that converts with the proper keywords is not challenging.
The issue when  building your brand awareness with Adwords is trying to be cost-efficient. 
It's very difficult to do. With Facebook, you not only are building awareness of your business, you are converting new customers.
Facebook has a new ad feature called Brand Awareness Optimization.
This new tool allows you to track which people spend quality time viewing a news-feed, Facebook ad, or promo.
According to Graham Mudd Facebook's director of ad and product marketing this tool allows Facebook:
"We can see if a consumer spent more time looking at that ad then they typically spend looking at ads,"
He explained.
"When you see someone slow down and consume the ad in ways that's different from his or her previous behaviors, that's a very strong predictor that the person will remember seeing the ad."
This shows Facebook can not only be used to convert more customers but it can also be used as a sophisticated way to build brand awareness.
4 – Mobile Advertising
Mobile usage recently surpassed desktop usage in 2014.
Facebook has 1.19 billion users on mobile with 745 million active daily users. 
People are on their smartphones more than ever and Facebook is a fantastic way to reach those people.
Facebook allows you to create ads especially designed for mobile conversion.
5  – A/B Testing
Facebook allows you to split test all your ads.
With A/B testing you can quickly test your image, copy, headline, and your target audience.
With Facebook Ads, the image is usually the most important part of the Ad. A/B testing allows marketers to test and optimize campaigns to maximize ROI.
Facebook also gives you the options to track lots of different types of metrics.
For example, you can track CPM, CPC, Cost Per Sale, and Checkouts. 
In fact, it can get confusing on what different types of metrics to keep track of.
People tend to complicate things as the two most important numbers are cost/per lead and cost/per sale.
6 – Laser Targeting
Facebook's has the best targeting of any marketing platform in the world.
Over the years, Facebook has compiled an extraordinary amount of information on its users.
You can target based on:
Demographics.
Interests.
Location.
Custom Audiences.
Workplace.
School.
And many more…
If you want to learn more about using Facebook's targeting features check out the video below:
7 – Your Audience is on Facebook
Facebook has over 1.5 billion users with this number increasing every day.
The odds are very high that your target customers are on Facebook.
The average Facebook user spends 40 minutes a day on Facebook.
Facebook has become a part of many people's lives and Facebook advertising presents the biggest advertising opportunity since Google AdWords in the early 2000's.
71% of adult internet users/58% of the entire adult population in the US are on Facebook.
No matter what business you are in your target customer will most likely be on Facebook.
The challenge is finding ways to target them.
Most advertisers start targeting based interests but the most effective form on Facebook is custom audiences.
8 – Cost
Compared to most forms of advertising Facebook Ads are cheap. Facebook ads have the lowest cost per 1,000 impressions in history.
The average cost to reach 1,000 people is only 0.25 which is 1% of T.V. advertising.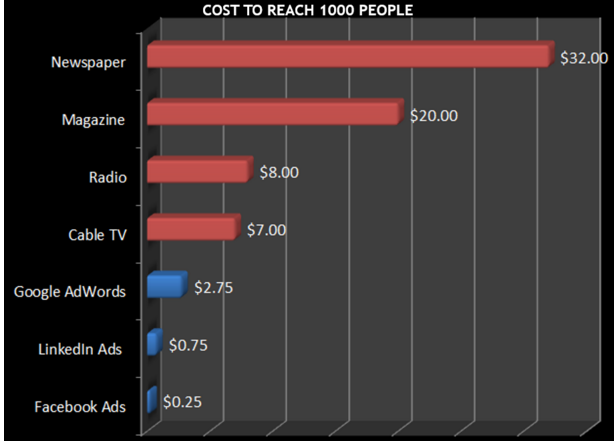 The average Ad cost per click is $0.27.
The average Facebook Ad per impression is $4.03.
However, this might not be the case in the future.
Facebook Ads are becoming more competitive each day and the costs are always increasing.
Right now is the best time to start with Facebook Ads as the they are still relatively cheap.
9 – Video Advertising
Facebook now sees 8 billion average daily video views from 500 million users.
Facebook recently overtook Youtube as the platform with the most video views.
Even though the numbers might be skewed it's undeniable that more people are watching videos on Facebook than ever.
Facebook videos allow you to reach lots of people at a very lost cost.
Videos are becoming the #1-way people share on social media.
Facebook also allows you to track different metrics with videos.
This allows you to understand what's working and what's not.
It also allows you to understand what your audience likes and dislikes.
Facebook also allows you to track how much time each person viewed your video for.
This allows you to refine and test your video content to see where they stop watching.
10 – Facebook Insights
Your Facebook page has a section called Facebook Insights that shows how well your Facebook page is performing.
With Facebook insights, you can learn things like:
Page performance.
Your Facebook Fans demographics.
Learn which posts have the highest engagement.
By learning your fans demographics, you gain insight into the type of advertising your fans will respond to.
Facebook Insights also allows you to view competitors and monitor how well they are performing.
To learn more about how to use Facebook Insights check out the posts below:
Conclusion
Facebook advertising presents the biggest opportunity for business reach millions of customers in history.
The vast majority of businesses would benefit greatly by advertising on Facebook.
Facebook keeps improving its ad platform with better tools.
With Facebook advertising, businesses can create brand awareness and convert more customers through enhanced targeting, creative ad control, and Facebook metrics.
Try Facebook advertising today!